GENERAL TRADING INDUSTRIAL WASTE
Management of waste coming from craft and/or industrial activities is one of the most disturbing problems both for producers, who according to the previous law (e.g. DPR 915/82) were encumbered with the cost of waste disposing, and technicians and public administration, who were given the task of creating the conditions so that disposal was carried out appropriately from a technical, economical and environment point of view, without any waste of resources.
The importance of the problem is growing, due both to the increase in the amount of waste, because of industrial development, and the increase in the hazards this waste contains.
Furthermore, in recent years much more importance has been given to the possibility of regenerating, recycling and/or re-using many types of waste, in particular waste coming from production processes. In this regard, more communication between the different economic operators and manufacturing companies could help in favouring a more rational use of the resources.
It is often found that, without either of the parties being aware, a manufacturing company uses as raw material the same material that another considers as machine shop rejection or even hazardous waste, with consequent high disposal costs.
In order to cover the need for treatment, General Trading S.p.A. has put a management strategy for industrial waste and hazardous industrial waste treatment platforms into effect. These specialised platforms operate as collection centres for all industrial waste to be sent for definitive disposal.
The possibility exists in fact to:
- have the opportunity of benefiting from the help of highly specialised technicians. Small to medium sized companies would not normally have at their disposal the necessary competence, services, technologically advanced disposal equipment and capacity to resolve all the various problems connected with the different types of waste;
- eliminate the enormous investment costs for the construction of small plants and to optimise the handling both from a technical and functional point of view;
- facilitate the evaluation of recoverable and/or re-usable material;
- guarantee compliance with the environmental regulations involving protection of air, water, earth and sound besides the reliability of the processes carried out. avoiding at the same time to have to provide environment control networks - difficult and costly to run incidentally - for the several small treatment stations situated in different places throughout the territory.
THE MULTI-FUNCTIONAL PLATFORM FOR DISPOSAL OF INDUSTRIAL WASTE AND REGENERATION OF MATERIALS.
The structure of the multi-function platform for disposal of industrial waste and regeneration of materials is divided into five main treatment lines:

- chemical-physical-biological treatment, which accepts all waste which is mainly organic but however contains other pollutants such as heavy metals;

- special treatments, such as those to make chromates, cyanides and heavy metals harmless and possible neutralisation or waste containing acids or basics;

- making mud and solid waste inert, which accepts all waste which requires stabilising and solidifying before being disposed of in suitable equipped dumping grounds.

- heat treatment, where all waste, both solid and mud which is mainly organic and therefore suitable to be incinerated, is accepted.

- suitable waste dump (ex classification 2B and/or 2C according to D.C.I. dated 27.07.84), which will accept process waste such as slag, ash and stabilized mud coming from the processes to make it inert plus waste which can be disposed of without requiring any special treatment.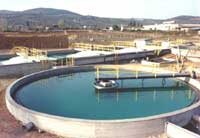 The waste to be treated in the platform must be only either industrial waste or hazardous industrial waste, and strictly in compliance with the regulations in force.
The platform is equipped with all the necessary systems required by the environmental regulations in regard to air, water, earth and acoustic pollution, adopting for each one the best technology available; the platform itself includes fixtures capable of avoiding unpleasant smell emissions or however those which could be unacceptable on the part of the people living in the neighbourhood.
General Trading S.p.A.
Sede: Via M.Vitalini, 1/9 – 25032 Chiari (BS) – Tel +39.0307100608 – +39.0307100743
Capitale Sociale i.v. € 4.500.000,00 Iscrizione reg. Impr. C.F. e P.IVA: 03359580176 – n° R.E.A.: 364580
Unità locale: Via Cavour, 206/A - 25045 Castegnato (BS) - Tel. +39.0306810122 - Fax +39.030610356
Unità locale: Via Trento, 38 - 25050 Paderno Franciacorta (BS) - Tel. +39.0306857268
Unità Locale: Via M.Vitalini, 13 – 25032 Chiari (BS) – Tel +39.0307100608 – +39.0307100743
e-mail : info@generaltrading.it